Hometown
Hometown
Jenny Gillam & Eugene Hansen
Dunedin Public Art Gallery
9 April, 2016 – 29 May, 2016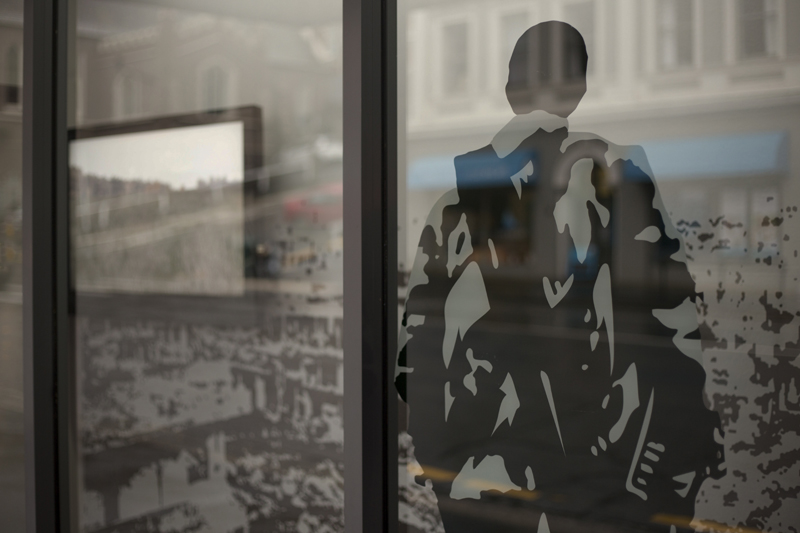 The genesis of this work is our sense of futility with the war currently unfolding in Syria. The resulting refugee crisis has engendered a sense of empathic horror and simultaneously a significant but uncanny sense of relief that we remain spatially dislocated from these global crises in Aotearoa/New Zealand.
Hometown is comprised of a sign writer's vinyl wall drawing on the rear wall and window glass with a large flat screen monitor mounted on the rear wall. The vinyl wall/window drawing has been adapted from an image sourced online of a soldier viewing Kobane, Syria. Digitally removed from the background image his life-sized silhouette is placed on the glass of the window so that viewers are standing alongside his outline as they view the damaged cityscape and moving image. Seventy percent of all structures in Kobane have been destroyed by bombing making it the city most destroyed by war ever in global history.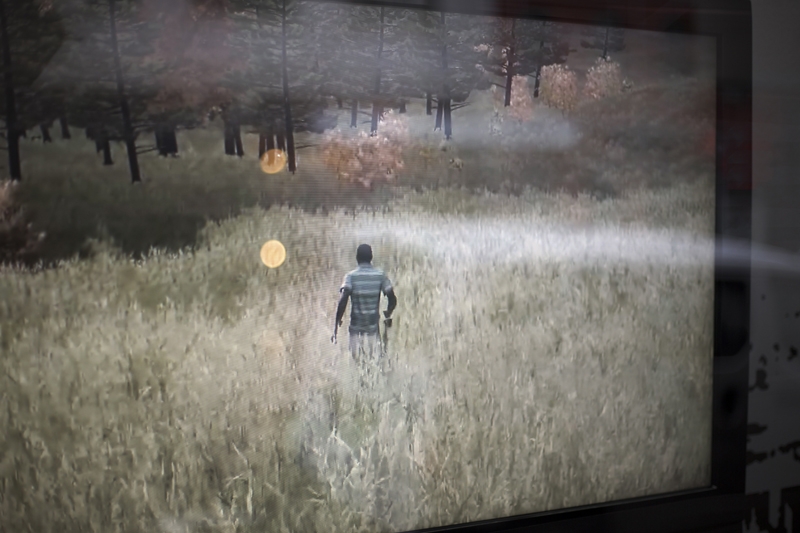 The monitor, viewed by audience and soldier, tracks a male avatar running through a virtual landscape. Due to the uniform pace of the running male figure it remains ambiguous as to whether he is running to or from something or somewhere. There is a sense of futility in the runner's endless motion. The audience can see both protagonists from the rear only, any identifying features are withheld – these could be any men. The video is made in the multiplayer, open-world, survival horror video game mod, DayZ which was designed by ex-New Zealand Army officer, Dean Hall and made by Bohemia Interactive who are the largest global suppliers of military simulation software.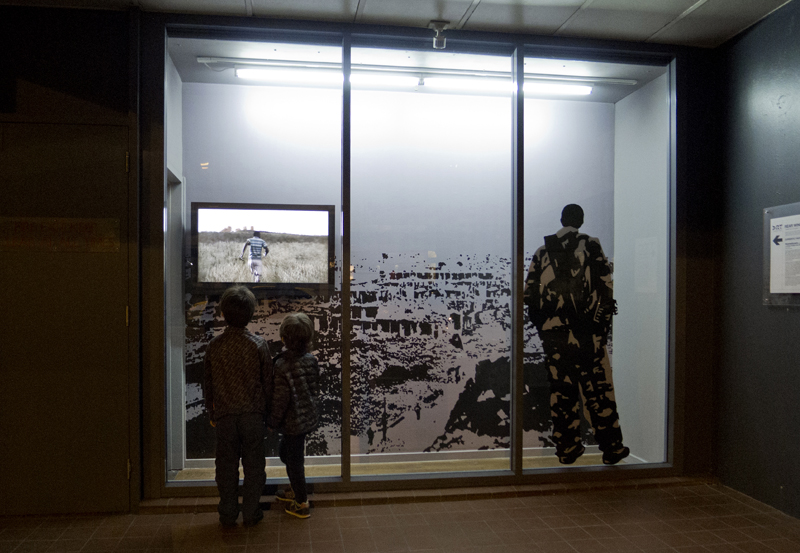 The audience are prompted to consider the complex relationships that are established between the real and virtual experience of viewing, to reflect on the dysfunctional nature of surveillance in an increasingly militarised contemporary life, and to question the emotional impact of experiencing these types of current world events virtually.
Image reference – Kurdish marksman, Kobane, Syria
Thanks to Adrian McCleland.